With charming style and intangible humour, David provides a unique and exquisite entertainment experience for both social and corporate occasions.

His modern and skilful approach to the art of close up magic has made him one of the most sought after close up magicians in the UK. He is often the entertainer of choice by many of the world's largest blue chip corporations, celebrities and politicians who are seeking to wow their clients, colleagues or friends with an experience they will never forget.

Please take a few minutes of your time to view my showreel.
Corporate Magician

These days corporate entertainment takes up most of my time. The main challenge as a corporate magician is the constant development and delivery of new and original ideas and effects, to keep my magic fresh and compelling. Great new ideas and tricks allow me to continually baffle, bewilder and entertain many, many people at a huge variety of venues and events all over the world.

In the summer of 2006 I was invited to perform in the presence of HM the Queen at Buckingham Palace as part of her 80th birthday celebrations and I perform regularly at venues such as The House of Lords, Inner Temple, The Royal Horseguards and many of London's top hotels and function venues.

Recent client commissions have included PricewaterhouseCoopers, Lastminute.com, The London 2012 Olympic Committee, BAE Systems, O2, Porsche and Audi to name but a few.

I'm very proud that I'm consistently the magician of choice for some of the world's largest blue chip companies and corporations.

Please see Corporate Magician and Table Magician for more information.
"Remarkable!" - Lord Goldsmith, former Attorney General for England and Wales

Close Up Magician for Private Parties / Party Magician

Performing as a magician at private parties is always fantastic fun. I love performing close-up magic and making people wonder 'how on earth did he do that?'

I think the key to my success is the ability to not only make jaws drop, but to make people laugh – I've been told it's my subtle sense of humour and charming style!

Whatever the event you're planning – whether a small drawing room gathering or a dinner party, to something much bigger such as an awards ceremony or charity ball, I promise to leave a lasting impression on your guests, who'll marvel at my sleight of hand magic and sensational feats of the mind.

Clients who have previously enjoyed my performances as a close up magician have included Royalty, nobility, celebrities, dignitaries, high ranking military officers and sports personalities, as well as many families and private individuals.

Please see Close Up Magician for more information.

"CONGRATULATIONS!! You have taken my family and friends by storm! Saturday 18th was an absolute triumph and about 70 people were in love with you! I cannot express adequately how wonderful your act is, and how impressed I, and my guests, were with your entire presentation. I cannot visualise there is anyone who could better provide a higher quality entertainment for any important occasion."
"That was quite simply ....spectacular" - Lord Taylor of Warwick, Politician
"I don't really know how to begin praising this exceptionally talented man. He is quite simply a genius! We had guests of all ages from 2 to 80 at our wedding and David kept all of them spellbound. At one point all the children were playing and the adults were fighting to get a space to watch David! If you are considering hiring a magician for an event, this guy is first class. David, everyone thought you were fantastic and you helped make our day extra special. I can't thank you enough."

Wedding Magician

Of all the roles I undertake as a magician, I think my very favourite is performing as a magician for weddings. The chance to bring two families together, and leave them laughing and thoroughly entertained on this very special of days is an exhilarating experience. I always try to set the mood for the day early on, because it lifts everyone's spirits, ensuring a truly wonderful time is had by all.

I'm asked to perform magic at over 40 weddings a year, at venues all over the world, so I have a tremendous amount of experience as a wedding magician.

Please see Wedding Magician for more information.
"That's just incredible!" - Jeremy Vine, Radio & Television Presenter
Magician for Television

Having appeared on television quite a number of times and found the experience both terrifying and exhilarating in equal measure, I decided to take a television presenter's course.

I now regularly discuss magic on national and international television and on radio. I've even had a starring role as a magician in a national TV advertising campaign in Turkey, for a multi-national company headquartered in Istanbul.

And I'm currently at pre-production stage for a pilot TV show for Channel 5.

Please see my Showreel for some of the highlights of my TV work.

"I can't help feeling rather smug that although he demonstrates other tricks with aplomb, he hasn't taken my watch unawares. And then it happens. Just when I wasn't expecting it. He's standing in the middle of the room talking to our photographer, who's trying to show him where he wants him to stand. And it provides the perfect cover. In a couple of seconds, he's divested the photographer of his watch." - Article in the Daily Mail
"A wonderful performer. Unobtrusive, charming and awe inspiring. Best summed up
by one of my guests who said. " I really did believe in magic.'""- Francis Tomelty, Actress

"Unbelievable! You're brilliant!" - The Hon. Mrs Charlotte Townshend - Ilchester Estates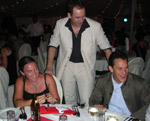 "I hired David for a new year's eve event that I was organizing for the Arusha Hotel in Arusha, Tanzania. I have seen magicians before, all over the world, but David was different and had a certain something that added a real touch of class to the event.
Truly a professional and amazing with people, his tricks were both fresh and original. Within two days of
being here, he had a large portion of the town talking about him. He caused such a stir that both hotel staff and guests would crowd around him begging see more magic wherever he went. David was an absolute pleasure to work with, and I would highly recommend him to anyone thinking of hiring a magician for any function. Thank you again David for all your help, I look forward to working with you again in the future" - Justin Marshall - Tanzania